Interworx Control Panel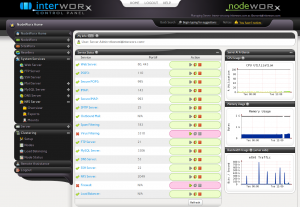 InterWorx is web hosting control panel software developed by InterWorx LLC. The application is divided into two interfaces: NodeWorx, which is used by a server administrators to manage a server, and SiteWorx, which is used by a website owner to manage a particular web site.
Hosting with Interworx
If you want hosting and Interworx, please see our Hosting Offers.
Interworx Licenses (w/ No Falcon Internet Hosting)
Interworx VPS (Unlimited Sites)
per month
Works only on Virtual Servers (VPS) Unlimited Sites
Interworx License (Unlimited Sites)
per month
Unlimited Site license for Non-Virtual, Physical Server
Interworx Standard (35 site license)
per month
Physical Server License but is limited to 35 Sites max.
Note: With Interworx Licenses, you must purchase the first month (whatever the balance of the month is, plus the next month on your initial purchase.)
Interworx Licenses
$8.95/month* allows unlimited websites. License must be installed on a Virtual Server.
Customers Interested in Interworx Licenses also purchased
Falcon Internet always operated in the most professional manner and the quality of the services he offered always have a professional polished look and feel. I would highly recommend Marc to anyone looking to upgrade their business web site or internet application.

Nicky S.
CEO, CarolinaNet
Falcon Internet knows their stuff. I trust them to manage my sites and keep them up. I highly recommend him and his company!

Nathan T
CEO, NathanTabor.com
I have sent several clients to Falcon Internet and they always exceed expectations of myself and the client. When migrations go wrong (and they usually do), they digs into the HTML, PHP, Lasso, etc and either fix it or makes recommendations for researching/fixing. A TOP notch hosting provider, no doubt.
Brian Middendorf
Product Design and Development, YABhydration, Inc
I wanted to take a moment to pass my gratitude to you and the Falcon Internet staff for the unwavering one-on-one customer support I've received over the years. … Just about anyone can provide hosting these days, but reliability and assurance of great customer support are where the true value lies!

Israel T.
Photographer, Artist, Web Developer/SEO, Marketing Consultant,
I've worked with Marc from Falcon Internet]for many years and highly recommend him as a programmer, system admin and hosting provider. He has proven himself to be an invaluable member of the community due in part to his broad range of experience and knowledge.

Bil Corry
Director, Security Assurance
If tFalcon Internet services offer affordable hosting at incredible performance and great customer service.

Steffan C
Owner, Execuchoice