Change out your old phones with a state-of-the-art Phone System in the Cloud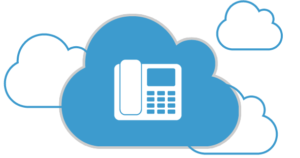 VoIP (Voice over IP) uses your existing internet service to deliver high-quality, digital telephone service to your location. Falcon Internet's Hosted Digital Phone system gives you the freedom of having your phones anywhere there is an internet connection…Moving? No problem! Just take your phones and plug them in the new location and you're up and running!
Falcon Internet's Hosted Phone System (also called a PBX) takes your phone system to the extreme by including all the fancy features of high-end phone systems like Voice Mail, Extensions, Hunt Groups, Call Queues, Call Centers, Music on Hold and much more. If you have a home office or multiple locations, Falcon's Digital Phone System really shines by uniting multiple locations into a single system that allows easy collaboration. Need a strong brand message? We'll record a professional greeting with your company name and message for a professional touch. Then, we'll route your customer to the correct extension, department or even have it call your cell-phone.
Falcon's Cloud Phone System Features
Service available in all 50 states

!
Free porting of your existing number to our system
No hiring an expensive technician to help to make changes to your phone system, just send us an email and we'll take care of it, fast and friendly
Unlimited Calling to the US and Canada
Unlimited Extensions and Flexibility
Call Queues, Call Center, Call Parking, Paging, Hunt Groups, VoiceMail
Link Multiple Office Locations together over a single system
Customer Portal allows you to make many changes yourself
Download call detail logs at anytime, great for attorneys!
24×7 Proactive Cloud Monitoring and Emergency Response
Free Technical Support from our friendly, knowledgeable staff
Hosted PBX with VoIP Phone Service
Get an affordable Hosted PBX Solution starting at $30/month per user (plus tax and e911 fees) with unlimited calling to US and Canada.
Customers Interested in Hosted PBX with VoIP also purchased
Falcon Internet always operated in the most professional manner and the quality of the services he offered always have a professional polished look and feel. I would highly recommend Marc to anyone looking to upgrade their business web site or internet application.

Nicky S.
CEO, CarolinaNet
Falcon Internet knows their stuff. I trust them to manage my sites and keep them up. I highly recommend him and his company!

Nathan T
CEO, NathanTabor.com
I have sent several clients to Falcon Internet and they always exceed expectations of myself and the client. When migrations go wrong (and they usually do), they digs into the HTML, PHP, Lasso, etc and either fix it or makes recommendations for researching/fixing. A TOP notch hosting provider, no doubt.
Brian Middendorf
Product Design and Development, YABhydration, Inc
I wanted to take a moment to pass my gratitude to you and the Falcon Internet staff for the unwavering one-on-one customer support I've received over the years. … Just about anyone can provide hosting these days, but reliability and assurance of great customer support are where the true value lies!

Israel T.
Photographer, Artist, Web Developer/SEO, Marketing Consultant,
I've worked with Marc from Falcon Internet]for many years and highly recommend him as a programmer, system admin and hosting provider. He has proven himself to be an invaluable member of the community due in part to his broad range of experience and knowledge.

Bil Corry
Director, Security Assurance
If tFalcon Internet services offer affordable hosting at incredible performance and great customer service.

Steffan C
Owner, Execuchoice